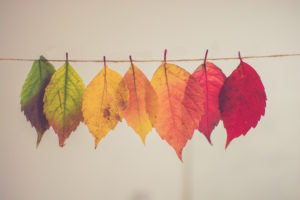 Last week's fall equinox marked that the back-to-school energy is in full swing.  The organizer in me remembers the fun of setting up for a new school year – selecting a new planner, new notebooks and the perfect Pilot pens! Even if you're not in a formal school setting, leverage the back-to-school momentum and shift in season to ace your organizing projects.  Here are 5 reasons why NOW is a great time to organize:
1) Temperature

In New England it's a perfect temperature for organizing – inside or out! Open your home's windows and enjoy the crisp air flow in as you declutter. Temperatures are just as enjoyable outside – a great time for yard work or garage decluttering projects.  Check your city's website to learn about hazardous waste removal and paper shredding events that might be happening in your area.
2) Many coat drive initiatives begin in October.
Now is an opportune time to donate winter coats. Depending on the volume of your wardrobe and how swiftly you can make decisions, this organizing project could be a quick win! Locate all winter coats and put them in a pile. Try each coat on and ask yourself, "If the temperature changed right now, would I wear it?" Consider donating the coats that you did not wear at all last winter. Once you've made your decisions, check out  Coats for Kids, One Warm Coat, or Goodwill and decide where you'd like to donate. Next, open your calendar and schedule a day and time to drop off your donations.
3) Locate and stage holiday decorations in advance.
Sort through holiday decorations. Keep the items that truly bring joy and that you would be happy to display again, donate the rest. To prep for holiday gift-giving,  take inventory of wrapping supplies and gifts already purchased
.
4) Create a cozy space to savor snow days!
Create space in your home for crafts, projects, or a place to relax before the next change in season. Declutter now to avoid being dragged down by any objects in your home that you don't enjoy and know you will not use again.
5) Get a head start on year-end financial paperwork.
If you haven't already, gather all receipts that you've accumulated so far in 2017.  Unless they are for business- related purchases or large ticket items, throw out receipts for groceries, consumables, and for items past their return date. Place the remaining receipts in an envelope labeled "Taxes 2017", put the envelope in a file folder with the same label. As you come across papers that need to be shredded, put them aside in a labeled  bag or file box.  Getting your receipts and financial information in order now, will save you time and frustration in 2018.
What do you feel called to organize, now? Let me know in the comments below.